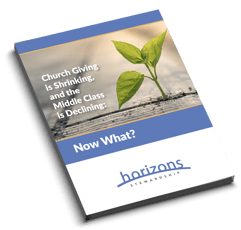 Download this blog and
share it with others.
The ugly truth is that funding ministry is costing more with annualized inflation currently at 7.7%. The result is that practically everything in your Ministry Action Plan costs more than last year.
Churches are particularly susceptible to rising payroll and healthcare costs because they account for 45-70% of most churches' ministry spending. Higher labor costs are driven by historically low unemployment rates. The result is a national skilled labor shortage with 1.8 job openings for each of our nation's unemployed.
Now is not a time churches can easily avoid increasing wages. The loss of a skilled staff member is far more expensive than a raise to adjust for inflation.
If your church has debt, you are in a double bind. You can expect to see loan interest rates rise by about 3.75% in response to the Federal Reserve Bank increasing short-term interest rates to combat inflation. Higher interest rates result in higher monthly payments, which place increased pressure on your ministry funding plan, which is already strained by inflationary pressures.
Changes in Key Economic Indicators
| | | | |
| --- | --- | --- | --- |
| | 1 Year Ago | Current | Change |
| Annualized Inflation | 7.37% | 7.7% | +.33% |
| Avg Commercial Loan | 4.25% | 8% | +3.75% |
| 30-Year Mortgage | 4.34% | 6.90% | +2.56% |
| Dow Jones Industrial (stocks) | 34,483 | 33,735 | -2.1% |
| GDP Growth | +2.0% | +2.6% | +.6% |
| Unemployment | 4.2% | 4.9% | +.7% |
It's Not a Giving Problem; It's a Giving to Your Church Problem
Over the last fifty years, Americans have given a very consistent 2% as measured by Gross Domestic Product and After-Tax Income.
The most recent data suggests that 69% of all giving in the United States is religiously motivated. At first glance, it would be easy to assume that church ministry coffers should be bursting at the seams.
The harsh reality is that giving to religion as a percentage of total US charitable giving is steeply declining, from almost half of all giving in 1989 to just 27% in 2021. In fact, on an inflation-adjusted basis, religion is one of only two major giving sectors to see a total giving decline.
How can it be that 69% of all giving is religiously motivated, and only 27% is given to the church? The answer is simple: Christians are shifting the majority of their "religiously motivated giving" to faith-based and secular nonprofits. Nonprofits widely use donor screening software to identify generous donors, most of whom have a spiritual motivation for giving. Once identified, they engage the prospective donor with compelling stories of impact, making a direct and compelling connection between the donor giving and the impact it will make. Where they can identify a spiritual motivation, nonprofit fundraisers, often Christians themselves, will incorporate this motivation into their appeal.
Like it or not, the nonprofit development world is radically shaping the expectations of Christian givers with a devastating impact on churches that fail to tell their own stories of impact using measurable and donor-centric language.
The Big and Uncomfortable Shift in Wealth to the Upper 1%
While giving in America remains remarkably consistent, who is giving is changing rapidly as wealth and income are shifting from the bottom 90% to the upper 1%, who now own more of the nation's wealth than the bottom 80% of the population.
The middle class, which historically funded a large portion of annual giving, is losing ground in income and wealth. High inflation will only increase the change you see reflected in this illustration.
Wealth in the Middle Class is Falling Rapidly
| | | | |
| --- | --- | --- | --- |
| | 1990 | 2020 | Change |
| Top 1% | 17.2% | 26.9% | +56% |
| 81-99% | 43.5% | 43.5% | 0% |
| 61-80% | 16.7% | 15.5% | -7% |
| Bottom 60% | 22.6% | 14.1% | -38% |
The need for churches to identify and develop financial leaders (the 5-15% of your members who give 50%+ of your annual ministry funding) and high-capacity donors who have yet to become financial leaders is increasingly critical to churches who are fully funding their ministry needs.
It's Time to Act
Here are four things you need to do right now:
Help your leaders understand the impact inflation and rising interest rates are already having on your ministry. Now is the time to look at your church's financial health in view of the rapidly changing financial landscape. Doing so will allow you to plan and adjust to the rising ministry costs to avoid aggressive cost-cutting measures.
Embrace an integrated approach to ministry funding. Church leaders need to adopt a holistic view of revenue streams that account for changes in church and philanthropic trends. Current giving models were built for the Builder generation and will not be sufficient to fund ministry budgets moving forward fully. Church leaders must be prepared to do the hard work and invest in generosity like other core functions of church operations and programming.
Engage your financial leaders now. The need for shared vocabulary, expectations, and best practices around generosity goes beyond the staff to lay leaders. Everyone must be on the same page to create the alignment necessary to fund your ministry plan fully.
Measure effectiveness and adjust based on data-informed insights. Each revenue stream must be identifiable, measurable, and reported on. Continuous feedback (analytics) will be necessary to identify challenges before they become roadblocks to your ministry. Leading indicators become even more important than lagging indicators when disruption is a persistent reality.
Push the Easy Button
There is a wealth of resources and easy-to-use technology that can help your church accelerate giving. Here are some great starting places:
Now is the time to look at your church's financial health in view of the rapidly changing financial landscape. Doing so will allow you to plan and adjust to the rising ministry costs without having to take aggressive cost-cutting measures. In short, it could spur fresh ideas and deliver a new path for a bold future.
Note: This data is current as of November.
---
About the Author
Joe Park is CEO of Horizons Stewardship, a team of 35 International Coaching Association-trained and CFRE-certified generosity coaches and support staff that have helped thousands of churches and faith-based nonprofits raise over 9 billion for ministry projects over the last 30 years.