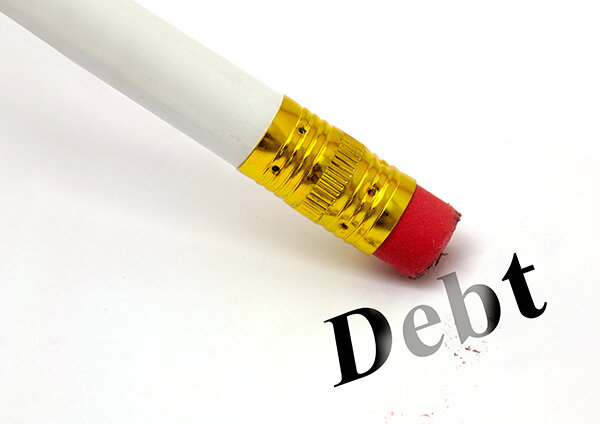 There are many ways a church can increase funding for ministry. One way that is often overlooked is removing debt service from the ministry budget. When you choose to reduce or eliminate the monthly debt service in your ministry budget, you immediately have more money for life change, discipleship, and other ministry impact opportunities.
Your first reaction to starting a conversation with your leaders about an effort to eliminate debt may not be excitement, but debt is not the object of the effort and should not be the focus of the conversation. Debt is merely a practical reality that is holding you back from living into your God-inspired ministry potential. Funding your ministry potential is the focus of your conversation. When you address debt, your church will experience the freedom to act on the ministry opportunities right in front of you.
Three Reasons Why Now Is Always a Good Time to Address Your Current Debt Service:
The future is unclear—today. While no one knows what ministry will look like moving forward, the next normal will be different. So, while you work out your longer-term ministry strategy, a debt initiative right now will provide additional ministry funding to support your future plans.
More dollars for ministry are needed now. For many churches, a debt reduction effort is the fastest and most effective way to increase ministry funding or address a funding shortfall. A debt elimination effort provides an immediate new stream of giving that allows churches to remove either the principle payments or the principle and interest payments from the ministry budget.
Positioning your church to invest for the future today will ensure you can maximize your impact tomorrow. Today is a time of preparation. As you adapt to new ministry conditions, greater flexibility in your ministry budget will allow you to capitalize on new ministry opportunities as they reveal themselves.
New Case Study Features Three Churches Who Decided a Debt Campaign Was Right for Them
Pastors and church leaders are often fearful that any type of capital funding effort will reduce critical dollars from your current ministry budget. One of the most common questions voiced while evaluating a debt campaign is: Will this stretch my congregation beyond their capacity to give? Many also wonder: Can I really get my church excited about reducing or eliminating debt? Three churches asked themselves the same questions. You can read about their experiences in the case study: Three Churches Expand Ministry Capacity Through a Debt Campaign. Each church had different needs, concerns, and questions, but all three agreed that a debt campaign was right for their church. Their stories and experiences are captured in a case study, which is ready to download now.
Each Church Arrived at the Same Three Conclusions About Their Debt Needs:
A debt campaign was the right solution for their current ministry situation. They all had a bigger vision that their current debt service would allow them to act upon. If they reduced or eliminated their church debt, it would result in more money for more ministry.
They each decided they didn't want to do it alone. While it's certainly possible to conduct a self-directed debt campaign, these leaders and their respective teams wanted a trusted guide who could ensure the entire experience was both positive and productive.
Each church experienced church-wide support for a debt campaign. Participation came from a broad base of donors, which helped make each debt campaign a resounding success.
Your Financial Leaders Want to See Your Church Debt Eliminated
Your financial leaders know how important addressing debt is for your church. Financial leaders want to make a lasting impact that becomes a catalyst for other ministry initiatives. Reducing or eliminating your church's debt will greatly accelerate your ability to do more ministry. It's likely you have new expenses during the COVID-19 outbreak and social distancing. Your discipline to embrace new digital strategies has helped you stay connected during this challenging season of ministry. As the social distancing restrictions loosen, it is very likely you will need to make additional investments to provide a high-quality online experience when in-person worship returns. Few churches will thrive in the future without doing both well. Conversations like these will capture the attention of your financial leaders and inspire them to participate at high levels because freeing up resources within the ministry budget becomes the key to funding these emerging ministry needs.
Fewer Dollars Going to Service Debt Means More Money for Ministry
The opportunity for ministry has never been greater, and you're going to need more financial resources to make sure you can capitalize on the impact potential of your church. There is no more effective way to do this than through a debt reduction campaign. It will have a lasting and positive impact on your church and will prepare you to lead forward into expanded and new areas of ministry that previously weren't possible because of debt. If you've been waiting for the right time to address your church's debt, read this case study to learn what three churches—just like you–experienced in their church related to a debt campaign. When you work with a trusted guide who can bring a contextually relevant framework who will guide your church through a debt campaign, you will not only successfully address your monthly debt service but also increase your capacity to fund more ministry and make more disciples.